I am joining a group of excellent math teachers for a blog hop series called "Fly on the math teacher's wall." The purpose is for each of use to spend time talking about misconceptions, issues, and ideas related to different topics. Our first topic is Place Value.
Understanding place value is key for all the basic math skills: adding, subtracting, multiplying, and dividing. These are the cornerstone for decimals, fractions, geometry, and everything!
Place value is perhaps the most fundamental concept imbedded in the elementary and middle school mathematics curriculum. Correctly solving problems that involve computation of whole and rational numbers is dependent upon understanding and expressing multidigit quantities. "It is absolutely essential that students develop a solid understanding of the base ten numeration system and place-value concepts by the end of grade 2. Students need many instructional experiences to develop their understanding of the systems including how numbers are written (NCTM, 2000, p. 81). – By H.J. Sherman|L.I. Richardson|G.J. Yard — Pearson Allyn Bacon Prentice Hall
I have some tips to help you assess place value and see if your learners truly understand place value deeply:
Verbally ask students to quickly add 10 or 100 to any number, even 20 and 200. Students who understand place value can respond quickly to questions like 34 + 10.
Ask word problems that look like division, but students who have a good grasp of place value will be able to do these problems handily.  For example, Lisa and Ethan picked 83 apples into one large bucket. They need to put the apples into bags. Each bag holds 10 apples, how many bags will they need?
If you only have time to do one place value assessment, this last tip is it. Interview a student one on one. Using a whiteboard/piece of paper, you write the number 16 on the paper. Then ask your student "Draw the amount of stars (or dots/circles) that this number represents." Hopefully they draw 16 stars on your paper.  Then you circle the 1 in your 16 and say to your student "Circle the amount of stars that matches/represents what I circled." Avoid saying "one" as some students just hear the one, though that shouldn't matter, but I have found that it does. Then circle the 6 in your number and say "Circle the amount of stars that matches."  Now, if your student has a good grasp of place value, they should circle ten when prompted to match your one. Kudos! If your student circled one star, and then six stars, the learner has some place value problems. You can ask "How many stars did you circle altogether?" They will say seven. You can follow-up with, "Does that match 16?" "Why doesn't it match?" Have an appropriate discussion with your learner.
Check out more place value tips from the Math Maniac!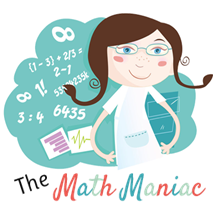 PS – Have you heard of a new social media platform "Tsu?"  I'm giving it a try!  If you would like to follow me, check it out and 
CLICK HERE!